Canggu is not just known for its picturesque beaches and laid-back surf culture, but also for its rising, eclectic nightlife scene! Long gone are the days of simple sunsets because now the party knows no limit in this lively neighborhood! Every day definitely feels like a party in Bali when you're strolling through Canggu, bar hopping and club surfing through the night and making unforgettable memories.
If you're looking for the best places to party throughout the week in Canggu, you've come to the right place. This weekly party guide will help you navigate the Canggu nightlife from Monday to Sunday.
---
Monday – Luigi's Hot Pizza
Canggu is known for the lively ambiance all week long. From lively cafes to iconic nightclubs, you'll never run out of options. At Luigi's, you get the best of both worlds, offering a unique Canggu nightlife experience to kickstart your week with a bang!.
From 4 PM onwards, you can enjoy a hot slice of oven pizzas, baked in an authentic pizza oven from Naples! Plus, their Metto Monday is not to be missed, offering pizzas with PNNYS, Bali's hottest musical collective.
---
A part of the international brand that originated in Ibiza, Café del Mar Bali is the epitome of island indulgence, featuring a chill ambiance, brilliant sunsets, unobstructed ocean views, and a selection of mouth watering cuisines. A leading Canggu nightlife destination.
If you're in the area, then you should definitely swing by on Tuesdays because Café del Mar Bali will be hosting Senja Latino, an evening dedicated to all things Latin Dance! From 4 PM, llearn the basics of Salsa, Bachata, and Kizomba with seasoned dancers, then test out your skills on the open dance floor as the sun begins to turn a brilliant orange hue, from 5 – 10 PM! Also, don't forget Café del Mar Bali presents a Halloween specials of Senja Latino this October 31th. Check out another Café del Mar offers for this Halloween here!
---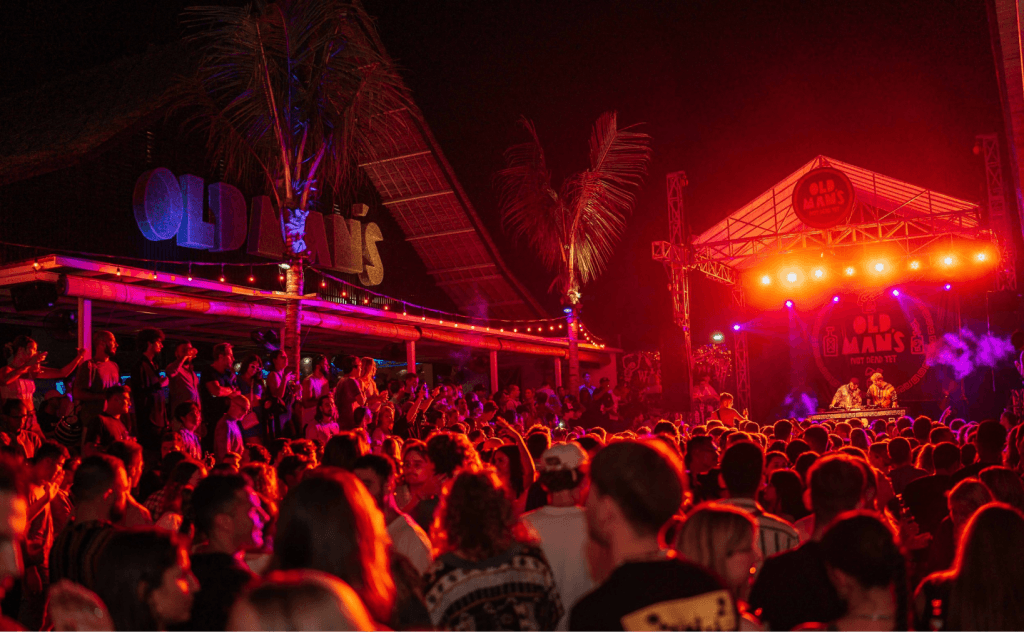 Wednesday – Old Man's
Old Man's is one of the longest-standing hubs for best Canggu nightlife! For almost two decades, this cozy beer garden has been the meeting ground for people from all over the world, coming together to soak in the chill Canggu ambiance, With direct access to Batu Bolong beach, you can see why this spot remains a top contender for best Canggu nightlife!
Join them on their Dirtyi Ol' Wednesdays to experience a playful side of the Canggu nightlife, where you can participate in an international beer pong competition to win great prizes! Then, take over the dance floor when the groovy musical lineup turns up the heat with their tunes.
---
Thursday – Miss Fish
Where modern Japanese dining experience meets fabulous nightlife. Start your night by indulging in their exquisite culinary offerings, each hand crafted with utmost care and respect towards the pure, simple Japanese way of cooking. Then, make your way to their Lounge and be a part of Canggu's most fashionable crowd as the night comes alive at Miss Fish!
With a lineup of weekly events, Miss Fish is one of the places where the Canggu nightlife shines the brightest! From a sultry Ladies Night (She's With Us) to a rotation of Bali's hottest DJs on deck, Miss Fish promises a range of atmospheres perfect for any kind of night on the town – sophisticated and vibrant.
---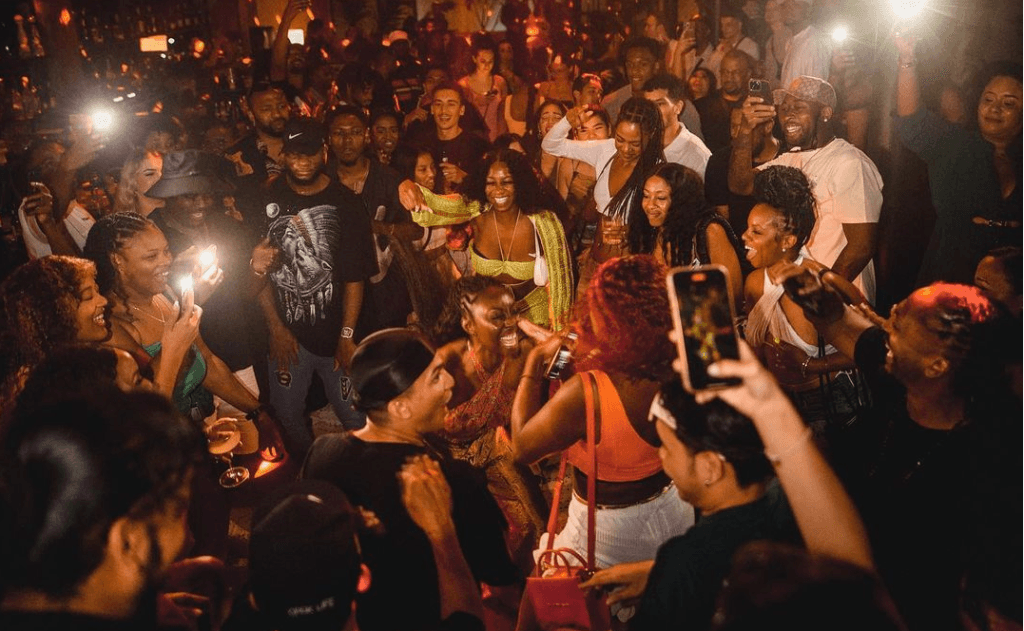 Friday – Playroom Bali
When browsing through the unique Canggu nightlife, they mostly fall into the category of late-night dining, vibrant parties, and even exciting sports bars. And at Playroom Bali, you can get all three! Playroom Bali is the newest addition to the already vibrant Canggu nightlife scene.
An elevated sports bar experience with an impressive 160-inch mega screen, replaying the hottest matcher live in Canggu. Aside from that, you can swing by just for the lively ambiance, playing darts or joining a friendly match of beer pong! And on Fridays, Playroom is hosting Juicy Fridays, a night of hip-hop, afrobeats, and groovy tunes.
---
Saturday – The Lawn
Kickstart your weekend at The Lawn, where beachfront bliss meets bohemian energy. A beachfront destination that offers relaxing sunsets with brilliant sunsets, The Lawn is one of the best day-to-night destinations in Canggu.
As the sun begins to set, watch as The Lawn transforms into a vibrant atmosphere, taking your Canggu nightlife to new heights. Known for inviting renowned artists, including Anderson Paak, The Lawn is your go-to for trendy musical entertainments and electric DJs.
---
Sunday – Atlas
A newcomer in the beachfront day-to-night scene, Atlas Beach Club is quickly rising the ranks as the largest beach club in South East Asia! Atlas Beach Club boasts a spacious venue comprising of a culinary complex before entering the main club area, allowing visitors to stop by for a quick dinner or continue on to a hype beachside party.
As the sun sets, the night comes alive at Atlas Beach Club, filling the air with hypnotic beats, strobing lights, and a vibrant ambiance. The perfect way to wrap up your week of Canggu nightlife exploration!