Canggu has quickly risen to become the number one spot for those looking for exemplary culinary delights! From trendy pancakes to local favourites, Canggu has something for everybody to enjoy whether you're a budget traveller, health enthusiast, or a lover of local flavours, there's a breakfast spot in Canggu to suit your taste, offering a cozy Canggu ambiance and affordable selections.
With a variety to choose from, and a number of new eateries on the rise, discover some of the Canggu favourites to get your day started the right way.
Milk & Madu
Milk & Madu is the absolute favourite when it comes to all-day breakfasts for a reason, offering a diverse menu that caters to all preferences. Whether you're in the mood for sweet pancakes, classic bacon and eggs, even something for the kiddies—you'll find it all here. It's a place for those who crave variety in their breakfast choices.
While the menu at Milk & Madu varies in price, it remains reasonable for the quality and variety of food offered, making it a great option for families and groups.
Located at Jl Pantai Berawa No. 52, open daily 7am – 10pm.
Nude
Another favorite among brunch-goers, offering a variety of organic options that are healthy as they are tantalising and delicious. Where the staff are friendly and the vibes are all about chillaxing with good and hearty food. Paired with excellent coffee, and you have yourself the best breakfast in Canggu!
Nude has a minimalist and modern aesthetic, creating a clean and inviting atmosphere. It's an ideal spot for a quick, affordable, and nutritious breakfast before hitting the beach or exploring Canggu.
Located at Jl Pantai Berawa No. 33, open daily from 7am.
Avocado Factory Canggu
This breakfast spot in Canggu is all about avocados, from toast, smoothies, even omelettes with a side of fresh avos! Sustainable dining with style, Avocado Factory Canggu focuses on ethically sourced ingredients and even materials to furnish their fabulous cafe.
With a variety of loaded breakfasts, Avocado Factory Canggu is among the more indulgent cafes for those looking to splurge.
Located at Jl Pantai Batu Mejan, Canggu, Open daily from 7am.
Baked
Just like the name entails, Baked is the home of fresh pastries! Perfectly flaky croissants, fresh sourdough, and their signature scrambled egg. With its cozy, rustic charm and a scent of freshly baked goods, Baked provides an intimate and inviting atmosphere for the best breakfast in Canggu.
While pastries and bread are the highlights here, prices typically range from $3 to $8, making it a budget-friendly choice.
Located at Jl Raya Semat Gang Kupu-Kupu No. 1, Tibubeneng. Open daily from 7am.
Crate Cafe
Crate Café is an iconic breakfast spot in Canggu known for its hearty portions and mouth watering selection. It's a paradise for foodies looking for a hearty and delicious start to the day. Crate Café's ambiance is the epitome of Canggu's relaxed and artistic atmosphere. Its industrial-chic decor, friendly staff, and vibrant crowd create a laid-back yet energetic vibe, perfect for mingling and starting your day right.
The great news is that Crate Café is budget-friendly. You can enjoy a hearty breakfast without emptying your wallet, making it an excellent choice for travellers on a tight budget.
Located at Jl Padang Linjong No. 49, Canggu. Open daily 6am – 5pm.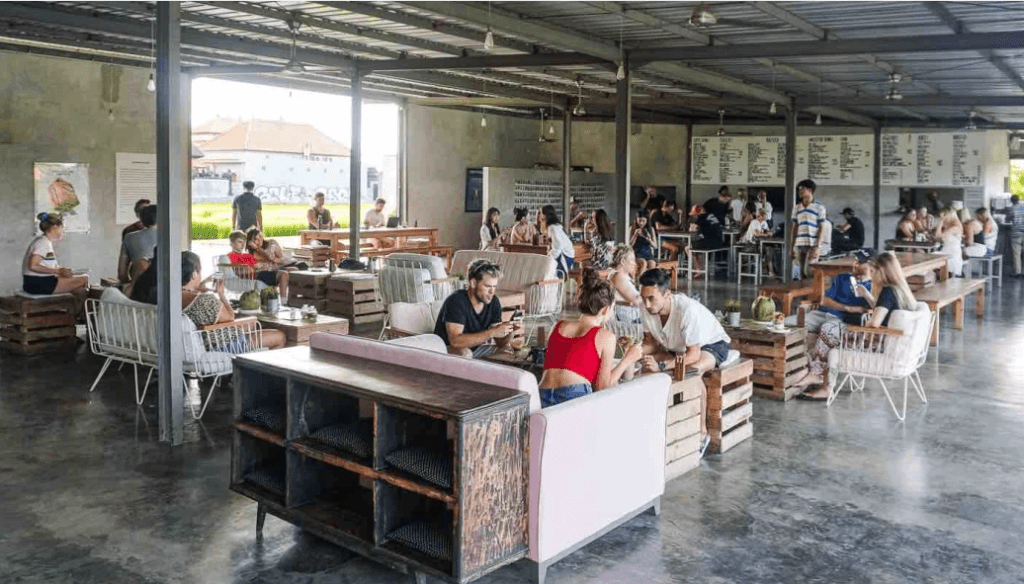 Canggu is known for the bustling and lively ambiance full of indulgent, trendy restaurants and cafes to kickstart your day in the neighbourhood the right and most flavorful way possible before spending your day exploring.
Then, after enjoying one of the best breakfast in Canggu, end your day with a relaxing moment poolside at Cafe del Mar Bali, basking in the signature Bali sunset in style with a cocktail in hand. Also, check out our recommendation for things to do in canggu here!